BMW of Bridgewater is an Authorized Dinan BMW Performance Center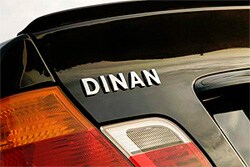 Dinan® products are distributed through a nationwide network of Authorized Dinan Performance Centers, comprised of select BMW Dealerships and Independent BMW Service/Performance facilities. Through a partnership between Dinan and BMW of Bridgewater you can purchase Dinan parts and accessories for your BMW vehicle close by in NJ now.
You are encouraged to contact BMW of Bridgewater for more information about Dinan® performance products and systems, obtaining brochures and any other information relating to the purchase and installation of our products. In addition, we often have demonstration vehicles as well as Dinan Certified Pre-Owned high performance BMWs available to you at our dealership. BMW of Bridgewater is fully prepared to put you behind the wheel of the high performance BMW of your dreams today.
About Dinan:

Founded in 1979, Dinan® is well established as North America's premiere BMW tuner. Dinan develops, manufactures and markets a comprehensive line of high performance products and systems, distributed through a nationwide network of Authorized Dinan Performance Centers that includes select BMW Dealerships and Independent BMW Service/High Performance facilities.

Dinan's industry leading warranty program, quality products and solid engineering have helped to make Dinan an almost household word among BMW driving enthusiasts. Road tests conducted by major automotive enthusiast publications over the last 30 years place Dinan enhanced BMWs on a performance level with some of the most exotic sports cars in the world. At the same time, Dinan enhanced BMWs are widely renowned for being civilized and reliable, providing a high performance BMW-like driving experience without equal.  - Dinan.com

 
---
Why Dinan for the Best BMW Performance Parts?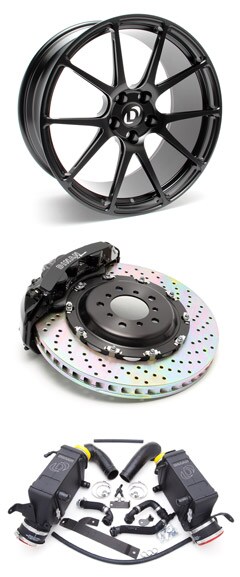 At Dinan, their passion for BMWs is evident in their dedication to designing and producing the most innovative and performance driven BMW products on the market. Serious enthusiasts turn to Dinan because they appreciate their ability to make BMW performance upgrades that outperform the rest of the BMW aftermarket industry. When customers want performance they turn to Dinan first: if there is a specific BMW upgrade that you have in mind, chances are they can do it.
With 35 years of experience working with BMWs, their engineers are trained to find ways of getting the best out of each BMW that comes into the market. They operate with the understanding that BMW owners view their cars as more than just cars. BMW has a long, rich history that perpetuates a sense of passion into each vehicle owner, perhaps more than any other type or brand of car.
At Dinan, they understand this passion and use it to offer comprehensive and unique BMW performance upgrades to BMW owners. They offer these upgrades by creating top of the line BMW solutions, with massive amounts of R&D behind everything they build. Dinan's BMW products aren't merely just parts; they are portals that allow them to take a BMW from good, too great. All the products from Dinan come to our customers with the best warranty in the BMW aftermarket business with a BMW factory matching 4 year or 50,000-mile new car warranty. This allows BMW owners to have confidence in Dinan upgrades: they proudly stand behind their work and their warranty guarantees that you'll be happy.
"With Dinan's latest work of art, he has not only fixed a car that wasn't broken but also sought to perfect a car that everyone considers to be as close to perfection as humanly possible…"- Car and Driver
---
Dinan is Exclusively For BMW
They are all about BMWs. In fact, BMW upgrades are the only type of upgrades that Dinan creates. This helps them to be experts in the field, knowing BMWs - quite literally - from the inside out. In fact Dinan takes their love of BMWs one step farther than most and has been involved in motorsports since the companies inception. They believe racing enables them to hone their R&D capabilities and gain a deeper understanding of how a car performs at its limit.
This belief has been awarded numerous times with championships and awards. Most recently from 2010 to 2012 Dinan-tuned BMW powered engines won championships in prototype cars in the GRAND-AM Rolex Sports Car Series. Today they are still involved in developing and supplying racing engines but also serve as technical partners to teams racings BMW's around the globe due to their vast amount of knowledge.
Dinan is also the only company that offers BMW performance products through the BMW dealership network. No insignificant feat considering how grueling BMW standards are to uphold its claim to the "ultimate driving machine".
What Kinds of Dinan Parts Are Available?
Dinan engineers and develop a multitude of performance solutions. In fact there are way too many to list and give them the credence they deserve. However the most popular Dinan product lines consist of...
Accessories

Apparel

Brakes

Chassis Tuning

Driveline Tuning

Engine Tuning

Exhaust

Signature Packages

Suspension

Tires 

Wheels